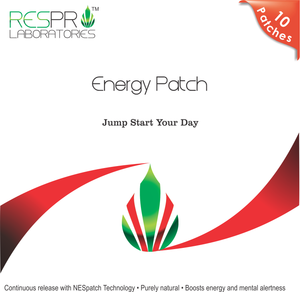 Respro Labs Natural Guarana and Vitamin B12 Energy Patch, Continuous Release - 10 Patches
Respro Labs
Regular price $12.99 Sale
Do you often need a dose of energy throughout the day? Find yourself suffering from the 2 pm energy slump where your brain and body just wants to go in for a nap? Our Energy Patches will quickly solve all your energy problems and make sure you are able to face the day head on. The Respro Labs Energy Patches will provide you with a continuous release of natural energy that can prevent drowsiness and fatigue, while enhancing mental alertness and focus. Our scientifically formulated energy patches: Will help you avoid suffering from the energy crash that you do with most other products out on the market - Are free from sugar and calories - Provide continuous and smooth energy support throughout the day - Keep you jitter-free!
Ingredients
42 mg of Guarana (naturally contains 50% caffeine), 140 mcg of Vitamin B12. Inactive Ingredients: USP/NF-grade hypoallergenic acrylic adhesive. Latex-free. No artificial colors. No artificial flavors. No preservatives.
Directions
To use just one patch:
1) Simply tear the protective pouch down the tear notch
2) Apply one or two of the patches to a dry, clean, and hair-free area of your skin
3) Discard all unused portions of packaging
4) Sit back, relax, and let the Energy Patch take care of the rest.
Product Features & Use
Advanced Energy Patch formula designed to provide sustained energy support all day long without the crash normally experienced with other energy products. 
To preserve freshness and quality, each box comes with 10 patches individually-sealed pouches. 
All Respro Labs patches are skillfully designed and formulated by natural patch experts using the highest quality ingredients. 
Superior Energy blend scientifically crafted using Guarana (naturally contains 50% caffeine) for maximum sustained natural energy.
Intended Use: Energy, tired, fatigue, endurance, mood elevation and weight loss.
Safety Warning
As with all natural products, please visit your licensed health care professional for proper medical advice prior to using this product. Do not use this product unless advised by a physician if you are pregnant, attempting to become pregnant, or nursing; or if you are taking any medications or have any chronic disease, including but not limited to hypertension (high blood pressure), diabetes, or an endocrine, auto-immune, depressive, bleeding or seizure disorder. Do not apply on damaged skin or wounds. Although unexpected, remove and discard if you experience discomfort, side effects, or skin irritation occurs. Do not reuse the patch once it is removed from the skin. Store in a cool and dry place. Not intended for individuals under the age of 18. Keep out of the reach of children and pets at all times. For external use only.    
These statements have not been evaluated by the Food and Drug Administration. This product is not intended to diagnose, treat, cure, or prevent any disease.